Office IP-PBX features overview
based on FreePBX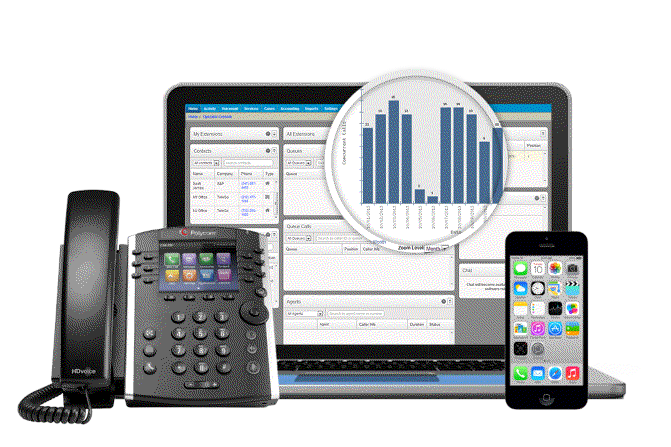 Main advantages
1. No restrictions on the number of users
2. Statistics and recording of calls
3. Reduction of communication costs: free calls within the organization and favorable tariffs for calls to partners
4. All the necessary features: voice greeting, answering machine, informing about missed calls, etc. (60+ features)
5. Connection for 2 hours
* In case when you provide data for setting the phone number in SIP format

Expand the full list of features
ACD Features

Advanced User Interface with features: Find me, Follow Me, Unified Messaging, Call recordings, Voicemail and call history

Analog Phone Support

ANI Routing (Automatic Number Identification)

Announcement Interface — the interface of IP PBX greetings, the automatic greeting at the incoming call will be different for working time and for non-working and weekend / holidays

Auto call forwarding — redirecting the call, the function is responsible for forwarding the call to another phone number (manually or automatically), depending on where the subscriber's location is registered - in the office or outside it

BYO Phones — Adding new numbers to your phone list

Call Barge — view the control panel on the phone to track active calls

Call Parking — parking a call, transferring a call to a virtual phone line (with a call on hold) so that a little later the client is processed by the same or another operator. To accept a parked call, the operator must dial the virtual line number on the telephone

Call Return — automatic return of the transferred call when not answered - back to the secretary

Call Screening of incoming calls: the system asks the subscriber to introduce himself, then puts the incoming call on hold, and reports to the operator about the incoming call

Caller ID Customization — Change your Caller ID (the defining phone number) for outgoing calls

Caller Position Notification — notification of the subscriber about the number in the queue in the waiting list

Cell Phone Integration

Channel Bank Support — connection of analog lines to a high-speed E1 channel by converting voice to digital form and time-division multiplexing

Chan Spy — selective listening of certain current calls of operators

Click to Dial — quick dial a phone number from the program by clicking the link with the phone number

Conference Rooms — creation and management of virtual conferences

CRM Integration

Custom Routing Rules

Custom VoIP Provider

Dial by Name Directory — dial the phone by the name of the employee in the company address book

DID's (Direct Inward Dialing) — Direct numbers connected to IP PBX through telecom operators

DNIS Routing — call routing based on destination number

Enhanced Mobility — advanced mobile options, for example, the use of wireless Bluetooth-headsets

Extension Call Recording — recording of incoming / outgoing calls for various internal numbers, trunks

Extension Groups — groups of operators with a common internal number

Extension Range Flexibility — range of internal numbers

Fax PDF Support — support for faxing in .pdf format

Fax Support — support for receiving faxes

Fax to Email — sending a fax to an email

Find Me / Follow Me — redirecting a call to different phone numbers of an employee, for example, to an office phone, then to a mobile phone, then to a home phone, then a call to voicemail

Inbound Call Description

Inbound Call Whisper — Sending a message to the operator who receives the call, who is calling and from where

Integrated Paging — integration of text messages

Interactive Voice Response (IVR) — interactive voice menu, allowing the subscriber to make a choice by pressing the keys of the phone, eliminating the operators from routine work

Intuitive VoIP Ready — the ability to connect to different providers, regardless of their data transfer formats, as well as the inclusion of telephone lines for an unlimited number of outgoing calls

Least Cost Routing (LCR) — routing of telephone calls by the criterion of the least cost of a call

Multiple Music on Hold — the ability to use not just one song, but several music options while waiting, including connecting a music library or streaming Internet radio

Multivendor Phone Options — option to connect multiple carriers

NIS Routing — routing based on information network information service (routing through the NIS protocol)

On the Fly Recording — call recording during a call

Operator Console

Outbound Dial Map

Outlook Integration

Overhead Paging — announcements for company employees through phones that have a hands-free function

Powerful Reporting

PSTN or Digital Failover — switching to duplicate channels, to the public telephone network or digital channels

Remote Linked Servers — Asterisk communication with remote servers

Remote Phones — удаленный телефонный доступ к системе

SMS Voicemail notification — SMS уведомление о получении голосовой почты

Speed Dial Numbers — кнопки быстрого набора номера

System Diagnositcs — диагностика системы и данных о пользователях

Time of Day Routing — переадресация звонка в зависимости от времени суток

Unified Messaging — интегрированная система обработки сообщений (входящие телефонные звонки, письма электронной почты и факсы отображаются на мониторе оператора)

Unlimited Voicemail Boxes — неограниченное количество ящиков для голосовой почты

Voicemail Blast Groups — выбрать список нужных номеров и создать из них группу, чтобы можно было оставить голосовое сообщение сразу на несколько номеров (всей группе)

Voicemail Bypass — переключение на оператора в обход голосовой почты

Voicemail Callback — функция позволяет записать Caller ID абонента и перезвонить ему прямо из режима прослушивания голосовой почты

Voicemail to Email — отправка голосового сообщения на электронную почту

Voicemail Web Access — доступ к голосовой почте через веб-интерфейс

VoIP Compression — сжатие голоса при передаче по протоколу VoIP, зависит от используемого кодека

VoIP Ready — функция подключения к любому активному VoIP-провайдеру из списка основных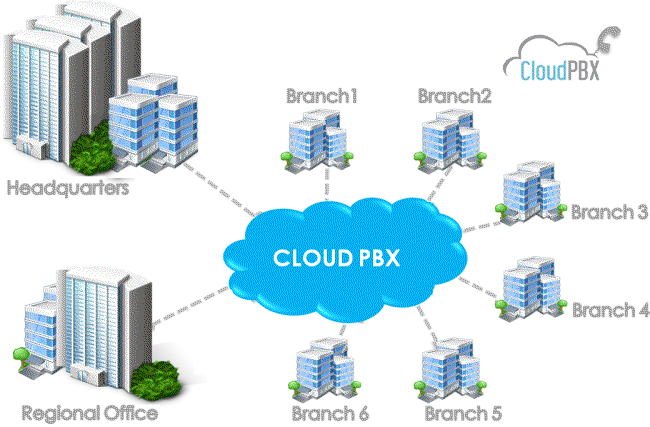 Connection diagram
To connect to an office PBX, you need:
1. The router to which the Internet is connected.
2. System administrator or technically competent specialist with basic knowledge of setting up a local network to communicate with him on incidents
3. Computers (tablets or smartphones) for your employees
All the other components necessary for the stable operation of telephony, we provide and support.